Eastern Area Masters Coaching Session Programme Kicks Off with excellent First Session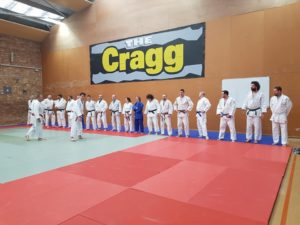 A programme of Monthly Masters sessions aimed at readying local Judoka for the European Masters in June and the British Masters in October kicked off with a session at Stowmarket Judo Club on Sunday 7th January.
An excellent turnout of 22 Judoka from at least 12 different clubs were put through their paces by local coaches Kevin Charlton and Dave Martin.
Local Coach and Masters competitor Colin McCallum said – Fantastic day at Stowmarket judo club, good to see 20+ masters on the mat. Nice to catch up with some top people
Spencer Holland of Littleport Judo Club showed the humorous side of Masters Judo when he said – Great day , probably won't be able to walk tomorrow but a great day nonetheless
For more details on the programme and to see all of the training dates, please click here
If you are over 30 and are interested in taking part email Laurence Kenyon and he will send a full list of the planned sessions.
There will also be regular updates on the Eastern Region Facebook page.